Dr. Self has over 20 years of experience with plastic and reconstructive surgery.  He truly cares about his patient's well being both physically and emotionally.  Dr. Self will take the time to ensure each and every patient is happy with the full procedure from the beginning to an end result.  What really sets him apart from others is his obsession with perfection.  Other surgeons may talk up how quickly they can finish a procedure, but Dr. Self prides himself in taking all the time necessary to do the job right. Dr. Self understands that getting the procedures right the first time saves his patients a lot of heartache down the road and keeps his clients some of the happiest in the state.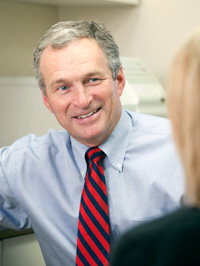 In 1987 Dr. Self opened a private practice of plastic and reconstructive surgery. His specialties include breast augmentation, body contouring, tummy tucks, liposuction, surgery after massive weight loss, facial aesthetic surgery, eyelids, and minimally invasive facial surgery.
"You have to be meticulous and have a feel for what you're doing," says Dr. Self. His attention to detail, personal approach, and closely knit office staff has Utahns and others flocking to his practice. "Our practice is growing dramatically because our satisfied patients recommend us to their family and friends."
Dr. Self has an unusually broad blend of training and experience that makes him uniquely qualified in understanding the relationship of the skeleton, soft tissue, and skin and how they work together in both a functional and aesthetic sense. Dr. Self graduated from the University Of Alabama School Of Medicine and completed training in general surgery as well as plastic surgery at the well known Mayo Graduate School Of Medicine.  Dr. Self has a long list of certifications, memberships, committee chairs, and has even been published in several books (please see list below).
As an experienced surgeon in the most up-to-date cosmetic plastic surgery procedures, Dr. Self and his highly trained staff are dedicated to helping you look and feel better about yourself. Our goals are to fully educate you about the procedures we offer and walk you through the surgical process so you feel comfortable, and ask any questions you may have.
We look forward to meeting with you and helping you discover how cosmetic or reconstructive plastic surgery can make a difference in your life.
Academic Degrees
B.S. Biology/Chemistry, Samford University, Birmingham, Alabama
Sep 1969-May 1973
M.D. University of Alabama School of Medicine, Birmingham, Alabama
June 1974-Jan 1978
Internships
St. Vincent's Hospital, Birmingham AL
Internal Medicine
January-June 1978
Mayo Graduate School of Medicine, Rochester, Minnesota
General Surgery
June 1978-July 1979
Residency
Mayo Graduate School of Medicine, Rochester, Minnesota
General Surgery
July 1979-December 1983
Mayo Graduate School of Medicine, Rochester, Minnesota
Plastic Surgery
January 1984-January 1986
Certification
National Board of Medical Examiners
Minnesota State Board of Medical Examiners
Alabama State Board of Medical Examiners
Utah State Board of Medical Examiner
Publications
Self, J.M., Irons, G.B., and Mucha, P. Burn Management Protocol for ER House Staff
Jackson, I. T., Cavanaugh, N., and Self, J.M., "Orbital Hypertelorism Secondary to Ethmoid Mucocele Case Presentation
Christanzo, C., Self, J.M., and Jackson, I.T. Desmoplastic Melanoma-Case Presentation and Subject Review
Committees
1994-2001 Member Operating Room Committee
1995-2001 Acting Chairman Plastic Surgery Division for St. Vincent's Hospital